Sparkplug Award, 2012 Recipient: Russell Libby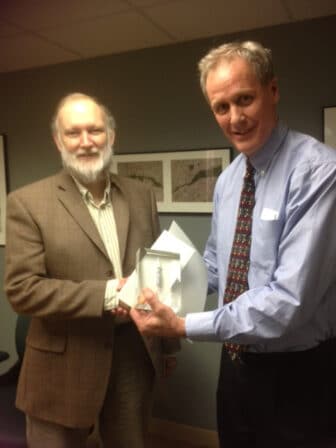 Russell Libby is a Maine native who planted his first garden after getting free seeds at the end of fourth grade. His involvement with Maine Organic Farmers & Gardeners Association (MOFGA) started at the first Common Ground Country Fair in 1977 where he saw a connection between local, organic food and a strong Maine economy. He began participating in the Consortium for Maine Food Self-Reliance in 1979, and joined the MOFGA Board of Directors in 1983. After a dozen years on the Board, including two years as President, Russell became Executive Director in 1995. He has led MOFGA's growth over the past decade as the organization moved to the new Common Ground Education Center in Unity, expanded the ag services and education programs, and created a subsidiary to run the certification program. He served 10 years as Research Director at the Maine Dept of Agriculture, and now serves on the Agricultural Council of Maine, the U/Maine Board of Agriculture, Maine Farmland Trust, Eat Local Foods Coalition, FEDCO Seeds, and the National Organic Coalition.
Both in and beyond Maine, Russell is respected as a well-informed, persuasive and deeply committed champion for how small-scale, local, organic, sustainable agriculture can serve as a powerful antidote to what he tagged in a recent TEDx talk as, the "Roadrunner economy." Russell conjures the image of Coyote in hot pursuit of the Roadrunner as the perfect metaphor for our prevailing economic system whose frantic chasing after an illusory object of desire has sent humanity and the natural world off the cliff, suspended in mid-air, and destined to fall. Russell offers that the strong connections forged between people in community as they grow, prepare and share food can soften what will otherwise be an unforgivingly hard landing.
Russell has a degree in economics from Bowdoin College and a Master's in resource economics from the University of Maine. With his wife, Mary Anne, and three daughters, he operates the small diversified Three Sisters Farm in Mount Vernon. He served three years on the local school board, has chaired the town's Comprehensive Plan Committee, and serves as a Selectman. He also writes poetry in his spare time. Russell's first book, Balance: A Late Pastoral, was published in 2007.
(JMF was saddened along with everyone who knew and worked with him by his death in 2013.)