Sparkplug Award, 2014 Recipient: Brad Schlaggar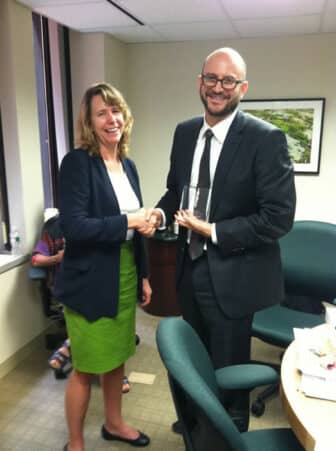 Brad Schlaggar, MD, PhD, is a professor of neurology and the newly appointed director of the Division of Pediatric and Developmental Neurology at Washington University School of Medicine (St. Louis).  He also treats patients at St. Louis Children's Hospital, where he was recently named neurologist-in-chief.
Brad was awarded the $50,000 Frank Hatch "Sparkplug" Award for Enlightened Public Service by The John Merck Fund for 2014. Dr. Schlaggar is the eighth recipient of the prize that the foundation presents annually to a grantee whose work embodies extraordinary creativity, dedication and foresight.
"Brad's contributions and commitment to the fields of child neurology and psychiatry demonstrate the reasons for awarding him this year's Sparkplug Award," said Olivia Farr, chair of the JMF board, in presenting the award. "Brad has become a leader in research into the developing brains of children, using innovative neuroimaging techniques. At the same time, he has pushed to ensure that brain researchers target problems faced by the developmentally disabled."
Dr. Schlaggar said, "I feel privileged and humbled to be recognized by The John Merck Fund with an award that is named for Mr. Frank Hatch, a man whose vision and leadership has had such an enormous impact on the lives of so many people, especially those with developmental disabilities. I share strongly the values and priorities of the John Merck Fund, making this recognition especially gratifying."
"Brad's attitude and respect for the interface between brain and mind, and his ability to incorporate that perspective into his clinical and scientific work, has driven his groundbreaking research.  He is an inspiration to students, colleagues and the entire scientific community," said Ms. Farr.
Originally from Chicago, Brad received his Honors ScB magna cum laude in Neural Science from Brown University in 1986, and his MD and PhD degrees from Washington University School of Medicine in 1994.  He completed residency training in Pediatric Medicine at St. Louis Children's Hospital and in Adult Neurology at Barnes-Jewish Hospital, before completing his Fellowship in Pediatric Neurology at St. Louis Children's Hospital in 1999.
Brad has been the recipient of many awards, including most recently, the E. Mead Johnson Award for Pediatric Research, given by the Society for Pediatric Research for outstanding research achievements in pediatrics.  He was chosen for this award for his contributions to basic and translational research using brain imaging, such as functional MRI, to understand the development of human cognition.  He has been listed annually in the "Best Doctors in America" since 2005 for Child Neurology.  Brad's current research efforts are directed at brain activation studies in development and plasticity of human cognition and language using functional MRI.  His clinical responsibilities include pediatric movement disorders, pediatric stroke, and hemiplegic cerebral palsy.
Brad received a John Merck Scholars Award in 2002, served on the John Merck Scholars Program Panel from 2008 to 2010, and is currently serving on the Translational Research Program's Scientific Advisory Board.