Sparkplug Award, 2015 Recipients: Andrew Falender & Jay Healy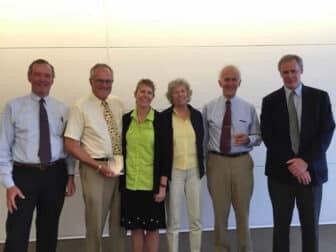 Andrew Falender served as President and CEO of the Appalachian Mountain Club (AMC) from 1989-2012. The AMC is the Northeast's leading conservation/recreation organization. While there, Andy updated governance, greatly expanded conservation and recreation programs, created an innovative 70,000-plus acre conservation/recreation corridor in Maine, maintained an unbroken record of balanced budgets, and presided over significant increases in endowment, membership and facilities. Andy also served as CEO of the New England Conservatory of Music from 1975 to 1988, in a number of management positions at the US Department of Health, Education, and Welfare from 1971 to 1974, and as a Peace Corps volunteer in the Philippines from 1968 to 1970. In addition to serving on a number of boards, including the Trust for Public Land, the International Alliance of Conservation Volunteers, and the Environmental Federation of New England, Andy has received several awards for his contributions, including Honorary Doctorates from Plymouth State University and the New England Conservatory of Music, a Lifetime Achievement Award from the EPA, and the Massachusetts Audubon Society's "Audubon Award." Andy joined the Conservation Law Foundation of Trustees in March 2012, and resigned from the board temporarily in May 2014 to join CLF's staff as a Volunteer/Chief Orienteering Officer.
Jay Healy: First as a state representative from Charlemont, Massachusetts, then as Commissioner of the Massachusetts Department of Food and Agriculture under Governor Weld, and finally as State Director for USDA Rural Development in Massachusetts, Connecticut, and Rhode Island, Jay gave his time and considerable talents to working on projects and policies designed to help strengthen rural working landscapes by helping farmers become more financially viable and environmentally sound. During his long and successful career, Jay worked on such innovative projects as food hub development and other new aggregation, processing, and distribution models, expanding farm-to-institution initiatives, expanding and enhancing agricultural technical assistance services to improve farm and food business viability, supporting new ways of communicating and networking about developments in the food system across the New England region, and creating durable public-private funding partnerships. Perhaps the most durable and impressive public-private funding collaborative with Jay's imprimatur on it is the USDA-JMF partnership that helped launch Farm to Institution New England, now in its fifth year and proving of great value to farmers, food producers and institutional customers across the region. As is clear from the impressive roster of speakers, plenaries and workshops, and the nearly 200 people already signed up to attend the inaugural New England Farm to Institution Summit at UMass-Amherst in April 2015, with FINE Jay helped to spark some new and important pathways to viability for New England farmers and food producers.