Sparkplug Award, 2017 Recipient: Brian F. Keane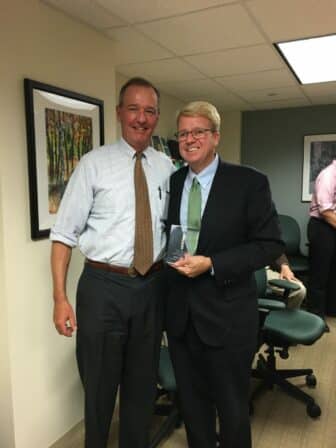 Brian F. Keane is President of SmartPower and author of Green Is Good: Save Money, Make Money, and Help Your Community Profit From Clean Energy (Lyons Press, 2012). He is a leading voice on clean energy, energy efficiency, and the environment. As President of SmartPower, a Washington, DC-based marketing agency dedicated to promoting clean, renewable energy, and energy efficiency, Keane has helped shape the energy debate in the United States and brought clean energy and energy efficiency to the American consumer. Hailed as Mad Men for an eco-conscious generation, SmartPower's award-winning marketing campaigns have engaged hundreds of thousands of people across the country, drawing credit for inspiring our nation's renewed interested in renewable energy and energy efficiency.
For their efforts, Keane and SmartPower have been recognized with numerous awards, including a 2010 Clean Air Excellence Award from the Environmental Protection Agency, recognizing SmartPower's "America's Greenest Campus" energy efficiency campaign. Other accolades include the coveted Green Power Pilot Award presented by the EPA and the US Department of Energy; four Gold Awards from the Service Industry Advertising Awards (SIAA); and the Connecticut Department of Environmental Protection's Green Circle Award. In 2005 Keane was recognized as one of Connecticut's "Outstanding Forty Under 40."
A former advisor to the late Senator Paul Tsongas (D-MA) and congressional aide to Representative Les Aspin (D-WI), Keane has an extensive and cutting-edge background in nonprofit management, political organizing and communications. He has used this experience to create organizations that challenge conventional wisdom and help to set the national agenda. To be sure, before there was a "Tea Party," Keane was one of the architects of The Concord Coalition, a nationwide non-profit organization dedicated to eliminating the federal budget deficit.
Keane combines his passion for major policy issues with a marketer's commitment to creating compelling messages that resonate with the general public, not just the converted. As such, Keane is a much sought-after interview subject and presenter on a host of issues – including clean energy and energy efficiency. He has spoken extensively across the nation, internationally and with local and national media.