Sparkplug Award, 2018 Recipient: Sylvia Broude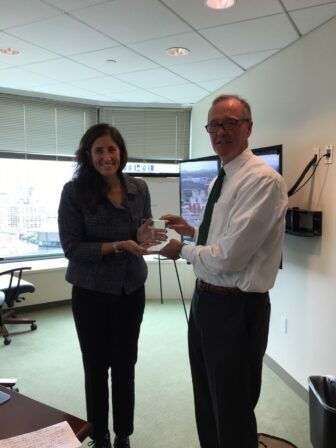 Sylvia Broude, Executive Director of the Toxics Action Center, was awarded the $50,000 Frank Hatch "Sparkplug" Award for Enlightened Public Service by The John Merck Fund on September 20, 2018. The award is granted annually to an outstanding leader whose work embodies extraordinary creativity, dedication, and foresight.
Sylvia oversees Toxics Action Center's six New England offices and supervises a team that organizes with nearly 100 communities each year.  Sylvia has spent much of her career at Toxics Action Center, joining the team as a community organizer in 2006 after working with Sierra Club, MoveOn PAC, and the Fund for the Public Interest. She took over as Executive Director in 2012 and has directed Toxics Action Center's work in recent years to prevent a wave of new incinerator proposals across the region and win progress towards zero waste as well as to transition New England away from coal-fired power plants and to clear the way for clean energy.
John Merck Fund Chair Whitney Hatch said, "Under Sylvia's direction, the Toxics Action Center has been instrumental in helping local communities and residents become active leaders in closing down the remaining coal-fired power plants in New England and in fighting to stop a major buildout of natural gas in the region."
Toxics Action Center was inspired by mothers of Woburn, Massachusetts, who took action in the mid-1980s to protect the health of their children when the chemical company W.R. Grace contaminated their drinking water. The Woburn leukemia cluster eventually claimed the lives of 14 children. In 1987, a group of public health and environmental advocates created the Massachusetts Campaign to Clean Up Hazardous Waste—now known as Toxics Action Center—to help residents who faced their own Woburn-like situations. Since those early days, Toxics Action Center has expanded into every New England state, has organized with more than 1,000 neighborhood groups, and directly trained more than 20,000 frontline activists in the skills needed to address local environmental threats.
Today, Toxics Action Center trains activists who are fighting dirty energy in their own communities to become clean energy champions for their states, and works to ensure that the communities hardest hit by pollution have a seat at the table to advocate for clean energy and climate justice.
Mr. Hatch noted, "Toxics Action Center does not aspire to be the leaders in the room. They work behind the scenes to make sure that those most affected by dirty fuels become leaders in promoting a better future for their communities. The goal is not to win one small battle in a single place, but to build lasting capacity in communities throughout the region. Toxics Action Center is steadfast in promoting its organizing model while remaining nimble in applying that model to an ever-changing landscape."
The John Merck Fund, a longtime funder of Toxics Action Center, created the Frank Hatch Sparkplug award in 2006 to honor its longtime former chairman, Frank Hatch.  Whitney Hatch is Frank Hatch's son.
Broude said, "I couldn't be more thankful for the lifetime of critical support The John Merck Fund has provided to Toxics Action Center, first under the leadership of Frank Hatch and now, in his legacy. From our early days working alongside community members to address to drinking water pollution in Woburn to our expansion into each New England state, The John Merck Fund has been there with us as partners and investors in our vision of clean air, clean water, healthy, just and vibrant communities, and a stronger people-powered environmental movement."
Mr. Hatch added, "Sylvia has brought her considerable energy, enthusiasm, and a deep intelligence to shepherding Toxics Action Center as it has grown into a sophisticated, dynamic, and effective organization."