Sparkplug Award, 2019 Recipient: Tim Storrow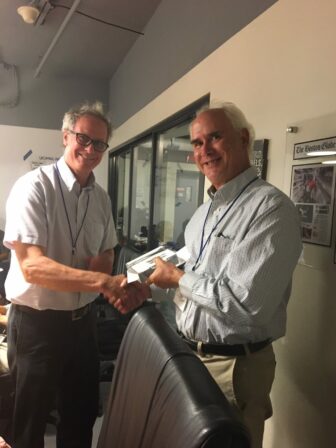 Tim Storrow of Gill, Massachusetts, was awarded the $50,000 Frank Hatch "Sparkplug" Award for Enlightened Public Service by The John Merck Fund on Tuesday, September 24, 2019. The award is granted annually to an outstanding leader whose work embodies extraordinary creativity, dedication, and foresight.  Mr. Storrow is the fifteenth Sparkplug Award recipient.
Over a career spanning nearly forty years, Tim Storrow dedicated himself to the protection of the natural environment and agriculture.  He retired earlier this year after serving as Executive Director of the Vermont-based Castanea Foundation, Inc. from 2006 to 2019.  Under Mr. Storrow's stewardship, and in collaboration with social entrepreneurs engaged with the region's farm and food system, the Castanea Foundation supported over 150 farmland conservation and rural economic development projects in Vermont and New York State with patient, risk-tolerant capital.  The John Merck Fund partnered with Castanea Foundation on numerous projects in Vermont during Storrow's impressive tenure.
Prior to joining Castanea, he was President of Legacy Partners, LLC, a conservation real estate advisory firm in Greenfield, Massachusetts, and a founding Board Member of the Mount Grace Land Conservation Trust based in Athol, Massachusetts.  He also served as Deputy Director for the New England Forestry Foundation, Director of Land Protection for the Massachusetts Audubon Society, American Farmland Trust, and in the early 1980s, Chief of the Bureau of Land Use, Massachusetts Department of Agricultural Resources.  Altogether, Mr. Storrow's activities have helped protect about 400,000 acres of land in New England and the United States.
Mr. Storrow served on the original Board of Managers for the Vermont Flexible Capital Fund, a social impact investment fund; as Manager of Evergreen Conservation Partners, LLC, a conservation partnership that included The John Merck Fund; and as Manager of Taproot Capital Fund, L3C, a joint venture between Castanea Foundation and High Meadows Fund focused on investing in farm, food, and forest-related enterprises in Vermont.
In his remarks as he conferred the Sparkplug award on Mr. Storrow, Frank Hatch's son, George Hatch, noted, "In his years of working in Vermont, Tim was a great on-the-ground partner for The John Merck Fund, alerting us to important opportunities to preserve the working landscape that continue to reap dividends for the state's agricultural economy and serve as models for the rest of New England and beyond.  Without exception, Tim could always be counted on to give JMF sound advice about where our investment could catalyze a change for the good.  That's what makes him a quintessential Sparkplug."
In response to the news he'd been chosen as the 2019 recipient, Mr. Storrow said, "I was surprised and overwhelmed to receive the Sparkplug Award.  It's a real honor to have an association with Frank Hatch, one of America's leading environmentalists and philanthropists, whom I admired and respected greatly."
Mr. Storrow is a graduate of the University of Vermont with a degree in Agriculture and Environmental Studies, and a Master's Degree in Environmental Law from Vermont Law School.  He grew up in Jericho, Vermont, and currently operates a small farm in Gill, Massachusetts, with his wife, Dorothy.  They have two children and a granddaughter.