Sparkplug Award, 2020 Recipients: Maria Elena Letona & Lena Entin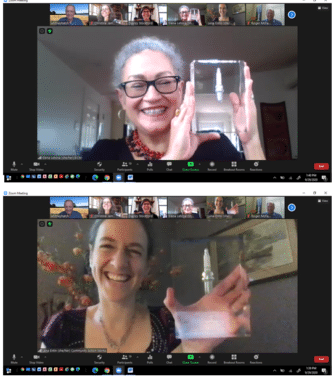 Maria Elena Letona (pictured on top receiving the award via Zoom) and Lena Entin (pictured below), both formerly of Neighbor to Neighbor Massachusetts Education Fund, were awarded $50,000 Frank Hatch "Sparkplug" Awards for Enlightened Public Service by The John Merck Fund on September 29, 2020. This award is granted annually to an outstanding leader or leaders whose work embodies extraordinary creativity, dedication, and foresight.
Serving as executive director and campaign director at Neighbor to Neighbor (N2N) respectively, Maria Elena and Lena were organizers for the successful Mt. Tom Coal Plant Campaign. With 15,000 members, N2N builds power among communities of color and low-income communities in Massachusetts to confront inequality, environmental degradation, and racism.
Once known as "Paper City" because of its thriving paper mills, Holyoke has always been a city of working-class immigrants. Today, Holyoke has a large Latinx community, with asthma rates that are twice as high as the state average. It is also home to an active environmental justice community.
Launched in 2010, N2N's Mt. Tom Coal Plant Campaign had four goals: close the Mt. Tom coal plant, ensure a just transition for workers, clean up the site, and redevelop the area. With community members playing a leading role, N2N coordinated a campaign with state and local groups to engage local residents and workers at the plant in a highly effective and innovative campaign that achieved all four goals. The plant is now closed, workers at the site received transition assistance, and the state supported cleanup of the site, which now serves as a solar facility.
Beyond the initial success, the campaign left community organizers stronger, with more skills and capacity to continue their organizing and outreach to clean up their community. With its focus on putting local leaders at the core of the campaign, it also served as a model for coal plant campaigns in Massachusetts and Connecticut. N2N used the experience and momentum from that campaign to work with chapters on other community climate initiatives. As Lena Entin put it, "The Mt. Tom campaign helped Neighbor to Neighbor begin to see itself as a climate justice and just transition organization. That has been a major transition for us."
Maria Elena recently retired from Neighbor to Neighbor (N2N), where she served as executive director. Ms. Letona has devoted her career to promoting racial and environmental justice through community organizing. She has spent more than 30 years working with grassroots organizations, with experience ranging from public policy to fundraising, finance, and organizational development. Prior to working with N2N, Maria Elena served as executive director of Centro Presente, a Boston-based immigrant rights organization. Maria Elena holds a Master's degree and a PhD in Public Policy from the University of Massachusetts. She is author and co-author of numerous articles and reports on topics related to organizational and community capacity building.
Lena Entin served as N2N campaign director for the Mt. Tom coal campaign. Under Lena's leadership over sixteen years, N2N doubled in size as she founded chapters in Fitchburg, Holyoke, and Springfield, Massachusetts. She also led the organization's fundraising work for two years. Lena got her training as an organizer in El Salvador, where she worked with US-El Salvador Sister Cities. Lena now serves as deputy director of Community Action Works (formerly Toxics Action Center), where she continues to help local communities engage in successful environmental justice campaigns.
In 2011, The John Merck Fund made a commitment to fund efforts to close all seven remaining coal plants in New England. At this juncture, four have closed, two remain open at limited capacity in New Hampshire, and a third in Connecticut is slated to close in 2021. In presenting the award, JMF Chair Whitney Hatch said, "With our goal to close all the remaining coal plants in New England, the Mt. Tom coal plant became the model for all those fights. We've learned a lot from your example about what it means to do true community organizing with lasting impact. We've been so proud to support this effort."
At an emotional meeting on September 29, both Lena and Maria Elena recounted the work on the coal plant campaign and the lessons it inspired for their ongoing organizing.
"JMF was the first funder that was willing to bet on us to run this campaign. That made it possible to get all the support that followed. I'm not sure we could have launched ourselves without that help," said Lena. "I learned how to be an organizer in El Salvador, where organizers taught me that you have to work from the ground up to build power in the community. The Mt. Tom campaign not only did just that but helped me apply that approach in all my work going forward."
"This award is such an inspiration for me," said Maria Elena, who has devoted her career to racial justice, environmental justice, and community organizing. "To know that you all honor this work and this approach is deeply meaningful for me. My gratitude goes way beyond the award; I feel a deep well of gratitude for what it seeded at N2N."
The John Merck Fund, a longtime funder of climate and clean energy solutions in New England, created the Frank Hatch Sparkplug award in 2006 to honor its former chair, Frank Hatch. Maria Elena and Lena are the sixteenth recipients of the award.